J. Goods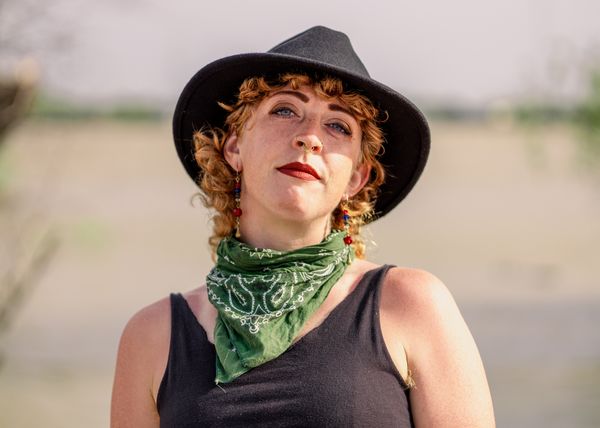 The J. Goods Experience brings the grit, smoke, and mystique of a lamp-lit French Quarter street corner to the stage with electrifying intensity, taking audiences on hypnotic, uplifting musical journeys through time and through the soul. The curated, collaborative auditory artwork of Jillian Kay Goodman—master of the self-aware romantic 'empowered' ballad and soulful belter of rebellious, raw emotion—The J. Goods Experience combines a Janis Joplin-like fiery abandon with the keen, aching awareness of Billie Holiday. The result is a grooving, moving danceable darkness that moves you across time and space before delivering you to the moment at hand. 
Whether showing off its busking roots with dynamic covers of "St. James Infirmary" and "Back to Black" or highlighting Jillian's socially conscious songwriting that aims to unite, The J. Goods Experience captivates audiences with a dizzying display of talent and swagger from Jillian and her rotating cast of musicians. Blending exceptional lead guitarists, groove-driven rhythm sections, and emotive horn and keys players, The J. Goods Experience is equally an experiment of connection and chemistry conducted directly from the stage. 
"What I love about The J. Goods Experience is that it's fluid—there's no 'end result' I'm trying to get to," says Jillian. "It's about providing space for and riding each artistic wave. I'm the consistent variable at each show, curating and creating an experience to fit a current atmosphere." 
Jillian's adventure to becoming The J. Goods Experience started in small-town Delaware where religious choirs and school mass honed a singer unsatisfied with her subject. As a young adult, Jillian journeyed through Wyoming, Alaska, and Colorado before settling in to New Orleans, where she was positively influenced by the music and attitudes of its street musicians. 
"They weren't booked to play there—they just went out and created the stage themselves," she says. "It seemed like the ultimate feeling of freedom, and it empowered me to explore music myself." 
Jillian credits her earliest experiences of performing live in Colorado with the Frisco Funk Collective as fundamental to her music career. Singing over a bowl of mac 'n' cheese in a Frisco bar got her an invite to perform, and the influence of the psychedelic, Colorado jam-band style can be heard just beneath The J. Goods Experience's musical journeying across blues, jazz, and wild western soundscapes. 
Just as The J. Goods Experience unites musicians, Jillian's songs bring people together with a powerful and uplifting message of acceptance. The J. Goods Experience is a platform for self-expression and a promotion of it, offering space to process who we are and what we need. 
"You don't have to live a conventional life if that's not what you want—normal is relative," says Jillian. "Just because you don't fit in it doesn't mean you need to change yourself. It means that there's another community that will support who you are instead of shame you for it," she says. 
In addition to being a songwriter and bandleader, Jillian is a visual artist who often designs her own elaborate show posters and album art. This visual component to her self-expression also comes through on stage, where color and costumes contribute to the magical moments and mood-bending escapes she creates for audiences across New Orleans and on the road.